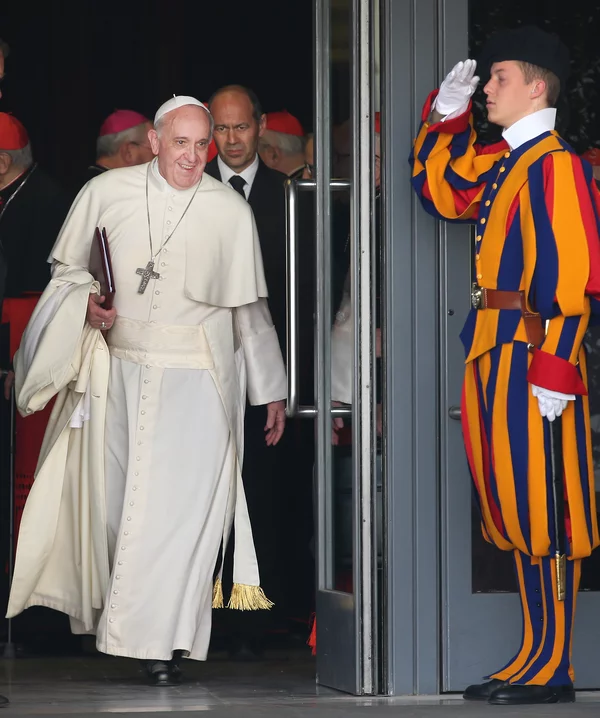 ONE WORLD RELIGION
FYI:  These are articles about Pope Francis.  I do not say I agree with everything in these reports but it is an indication of his efforts towards this end.  
JUNE 15, 2021 Abrahamic Family House https://www.vaticannews.va/en/vatican-city/news/2021-06/abu-dhabi-abrahamic-family-house-2022-human-fraternity.html
June 29, 2015 Title: "Pope Francis: 'Defender of the Pagan Gaia Faith'"
February 13, 2019 After Signing One-World Religion Covenant, Pope Francis Makes His Next Push
---
July 3, 2020 Inter-faith prayers for the pandemic to cease?
"Moving beyond the perimeter of the biblical faith, Roman Catholicism legitimizes prayers to other deities or religious ideals.
Can you imagine an Apostle Paul who, at the Areopagus in Athens (Acts 17), invites his listeners (followers of various philosophical schools and ancient cults) to unite in prayer, each to his own god/ideal as a sign of fraternity?"
June 3, 2019 – According to Pope Francis, "Europe must talk…. Get back to the mysticism of the founding fathers*. Get back to this. Europe needs itself to be itself. Its identity, its unity. And overcome with this, with so many things that good politics offer, overcoming divisions and borders. We are seeing borders in Europe. This is not good. At least cultural borders. It is not good. It is true that every country has its own culture and must guard it, but with the mysticism of the prism. There is a globalization where everyone's cultures are respected, but all united. But please, do not let Europe be overcome by pessimism and ideologies. Because Europe is attacked not with cannons or bombs at the moment, but yes, with ideologies. Ideologies that are not European, that come from outside and hide in small groups in Europe."
* "founding fathers" (because he is speaking in context of Europe): Jean Monnet  ,  Alcide de Gasperi, Robert Schuman, and Konrad Adenauer
Q: What is this "mysticism of the prism"?
April 8. 2021 https://www.lifesitenews.com/news/pope-francis-calls-for-global-governance-and-universal-vaccines-in-letter-to-globalist-financial-summit
————————–
Sept 26, 2019 Title:"Mosque, church and synagogue to share home in Abu Dhabi"
2019 – Title "GAIA WORSHIP 2020: POPE FRANCIS PREPARING TO MAKE 'ECOLOGICAL SIN' AN OFFICIAL PART OF THE CATECHISM OF THE CATHOLIC CHURCH IN NEW AGE SHIFT"
2019 – Pope Francis: Vicar of Chaos
FYI (Other popes):
Idolization of "MARY"
These are from the Catholic News Agency, a news agency founded in 2004 by Pope John Paul, so it is right from the horse's mouth!
Apr 4, 2017 This is a request to Pope Francis regarding Mary as "Co-Redemptrix". It also has titles listed for Mary as "New Eve", "Mother of Church", "Mother of God", "Help of Christians".
May 12, 2017 Pope Francis prayed: "Hail Holy Queen, Blessed Virgin of Fatima, Lady of Immaculate Heart, our refuge and our way to God! … O clement, O loving, O sweet Virgin Mary, Queen of the Rosary of Fatima!"
Comment from HIM: "Our way to God"??? Jesus is the WAY!
Jan 1, 2018 According to Pope Francis, "Devotion to Mary is not spiritual etiquette; it is a requirement of the Christian life,"
Dec 8, 2018 According to Pope Francis,"Today we look at the beauty of Our Lady, who was born and lived without sin,
But the Mary (better called "Miriam"according to the Greek) said "My soul magnifies the Lord. My spirit has rejoiced in God my Savior for He has looked at the humble state of His servant. (Luke 2:46-48) Miriam was not sinless! And there is no Scriptural proof of this.
August 25, 2019 According to Pope Francis, "'Mary can be invoked under the title "Gate of Heaven,'"
But Jesus states that He is the gate/door (depending on translation) in John 10:1-6!
"The one who enters by the gate is the shepherd of the sheep." John 10:2 NIV
"Because narrow is the gate and difficult is the way which leads to life, and there are few who find it." Matthew 7:14 NKJV
Other
March 14, 2013 https://www.newyorker.com/news/daily-comment/pope-francis-and-the-dirty-war
June 26, 2015 Palestine recognized as a state by Vatican
July 13, 2020 https://novenanews.com/pilgrimage-transsexuals-black-madonna-montevergine/
August 17, 2020 https://novenanews.com/pope-encourages-nun-accompanying-trans-women/